Dual voltage controlled AD envelope generator (AMORE)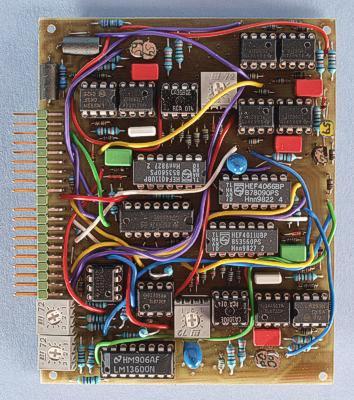 The prototype version of the board. There are a few differences compared to the final board.
This module contains two separate envelope shapers with voltage control over attack rate, decay rate and envelope amplitude. The slopes are linear. The main circuit is my own design. To control the amplitude of the envelope a common VCA is used. This module can among other things be used to create attack transients in the sound. You can then route velocity to the amplitude CV so that the attack transient gets stronger when you play harder.
There are a lot of ICs on this board. To route all signals there are a lot of wires connecting different parts of the board. There is a separete PDF file to show clearly how the wires should be routed.
Bill of materials
You should have access to the parts in the general bill of materials.
In addition, you need the following less common parts:
There are no special parts needed.
Trimming
There are two trimmers for each envelope generator:
VCA offset
Adjust this without triggering the EG. Measure the output and adjust the trimmer so there is as little DC change as possible when you sweep the amplitude CV.
CV offset
Set the amplitude and attack CV knobs to max and the decay CV knob to min (= slowest decay). Trig the EG and check the output on an oscilloscope. Adjust the CV offset trimmer to maximize the amplitude on the 'scope. Be sure not to turn it any further when you have reached max amplitude (which should be 10 volts).
Skill level required: MEDIUM
There isn't really anything particularly difficult on this module, but the parts are densely packed and there are a lot of wire connections to route correctly.
| | | |
| --- | --- | --- |
| Connector pin | signal | on this module |
| 1 | 1 oct/V | not used |
| 2 | in 1 | trig EG 1 |
| 3 | CV 1 | attack CV 1 |
| 4 | CV 2 | decay CV 1 |
| 5 | CV 3 | amplitude CV 1 |
| 6 | -15 V | -15 V |
| 7 | out 1 | output EG 1 |
| 8 | -1 V | -1 V |
| 9 | gnd | gnd |
| 10 | key | - |
| 11 | switch 1 | mute EG 1 |
| 12 | switch 2 | mute EG 2 |
| 13 | out 2 | output EG 2 |
| 14 | +15 V | +15 V |
| 15 | +10 V | not used |
| 16 | aux output | not used |
| 17 | in 2 | trig EG 2 |
| 18 | CV 4 | attack CV 2 |
| 19 | CV 5 | decay CV 2 |
| 20 | CV 6 | amplitude CV 2 |