Voltage controlled ADSHR envelope generator (AMORE)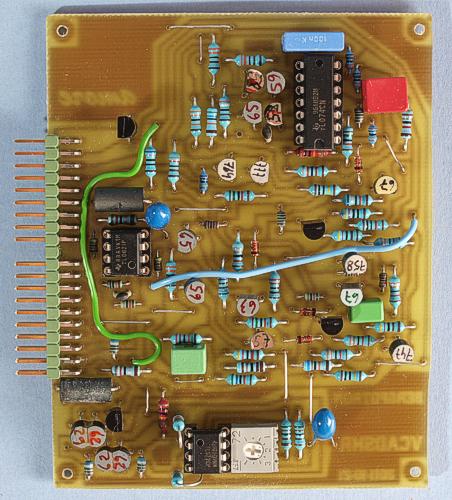 A prototype of the board. There are only a few very minor differences on the final version.
This module contains one envelope shaper with voltage control over attack time, decay time, sustain level, hold time and release time. The slopes are not linear. This is a version of Jürgen Haible's envelope shaper that I have adapted for the AMORE standard. In addition, this module has a VCA for controlling the envelope amplitude. This VCA would normally be controlled from key velocity, to make the envelope higher, the harder you play. The module also has an output that is unaffected by the VCA.
Bill of materials
You should have access to the parts in the general bill of materials.
In addition, you need the following less common parts:
There are no special parts needed.
Matching
The NPN transistor pair in the VCA should be matched. It's the transistors between the two 680 ohm resistors. You can use the AMORE Transistor Matcher for doing this.
Trimming
There is only one trimmer on this envelope generator. It controls the VCA offset and only affects output 2. Measure the voltage from output 2 and adjust the trimmer when the EG is not triggered to as close to zero volts as possible.
Skill level required: LOW
Nothing to match and very simple to trim. And there is some space between the parts. There shouldn't be any difficulties in populating this board.
| | | |
| --- | --- | --- |
| Connector pin | signal | on this module |
| 1 | 1 oct/V | not used |
| 2 | in 1 | gate |
| 3 | CV 1 | attack CV |
| 4 | CV 2 | decay CV |
| 5 | CV 3 | release CV |
| 6 | -15 V | -15 V |
| 7 | out 1 | output |
| 8 | -1 V | not used |
| 9 | gnd | gnd |
| 10 | key | - |
| 11 | switch 1 | mute |
| 12 | switch 2 | not used |
| 13 | out 2 | not used |
| 14 | +15 V | +15 V |
| 15 | +10 V | not used |
| 16 | aux output | not used |
| 17 | in 2 | not used |
| 18 | CV 4 | sustain CV |
| 19 | CV 5 | hold CV |
| 20 | CV 6 | amplitude CV |